Achievements by the example of Domodedovo Airhotel
Positive trend of revenue index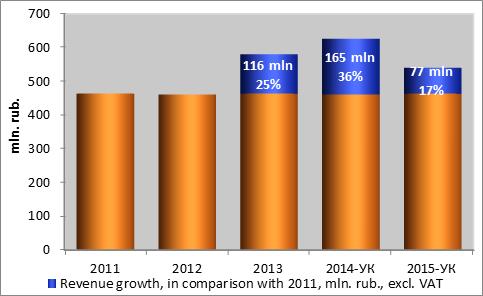 Under the leadership of the management company the revenue index of the hotel complex from 2013 to 2015 has shown a positive trend. The revenue growth was achieved due to two main factors: improving the service quality and the introduction of flexible pricing system. As the graph shows, the revenue growth, in comparison with 2011, in 2013 and 2014 was 25% and 36%, respectively. The decline in 2015 was caused by conjunctural changes: a slump from October 2015 to May 2016 in the segment of the airlines due to the withdrawal from the market of "Transaero" and disabling of the popular charter routes to Turkey and Egypt.
Rating of Booking.com website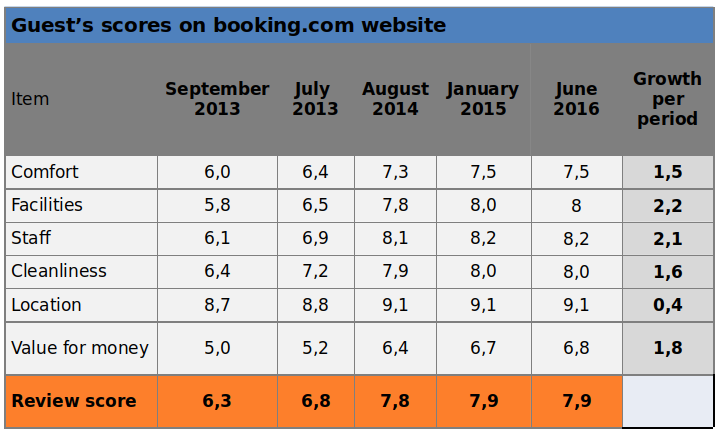 Guest reviews and, based on them, ratings on Booking.com website are independent indicators of the hotel performance. During the period of the management company work, the improvement of the quality of the services in all respects and the rating increase by 1.6 points were achieved without any hotel infrastructure investments from the owner of the building.
Achievements through the example of Tourist Hotel (Omsk)
Positive trend of revenue index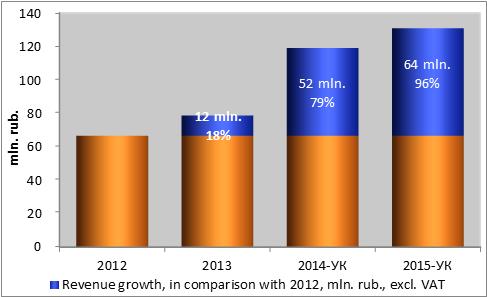 Since the beginning of the work under the supervision of the management company (in February 2014), the hotel complex revenue shows steady increase. Comparative to 2012 this figure was almost doubled (increase by 96%, compared to 2012). The growth was achieved through radical changes in the hotel's activity, aimed at improvement of service quality (breakfast, mini bars, reception services, additional services).
Rating of Booking.com website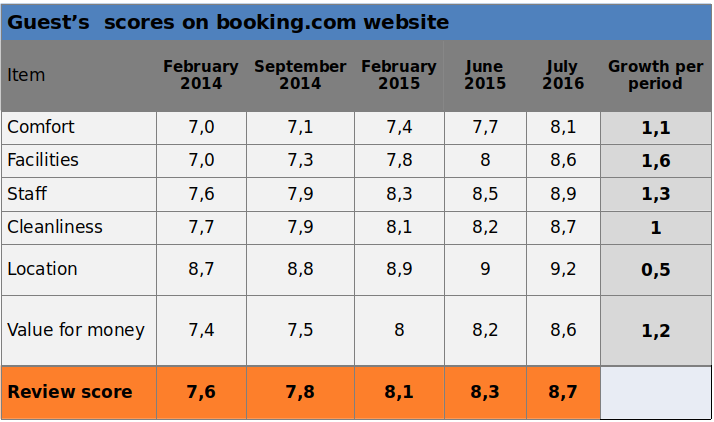 The data, obtained from the reviews on Booking.com website, is a good demonstration of the progress made. The main focus was on improving and enhancing the service quality in connection with the staff work and comfort of guests' stay. The rating improvement of 'convenience' and 'staff' items was 1.6 and 1.3 points respectively, and of 'purity' – 1 point. The data shows the effectiveness of the management company implemented quality control mechanisms and human resources policy. The guest room stock is now also being improved, which is also intended to increase further the attractiveness of the hotel for guests.